Discover the E.M Elite Collection: Elevating Tradition with Modern Style.
EM is Here to Make Your Dream Wedding Come True!
Do you offer Vietnamese decoration rentals?

Yes, we offer a wide range of Vietnamese decoration rentals to help you create the perfect ambiance for your event. Our rental options include lanterns, bamboo screens, silk lanterns, and much more. We offer affordable rental prices and can help you choose the perfect decorations to suit your needs.
Do you offer packages for Vietnamese decorations and event planning services?

Yes, we offer "Done for You" packages that include Vietnamese decorations and event planning services. Our team can help you plan your event from start to finish, including decorations, venue selection, catering, entertainment, and bridal, and mother make up. Our packages are designed to save you time and stress while ensuring that your event is a success.
How do I reserve Vietnamese decorations and event planning services?

To reserve Vietnamese decorations or event planning services, simply contact us to discuss your needs. We will provide you with a detailed quote and information on availability. Once you have confirmed your booking, we will require a deposit to secure your reservation.
What is the process for renting or custom making an ao dai or wedding dress?

To rent an ao dai or wedding dress, simply visit our store and browse our selection. Once you have chosen a dress, we will take your measurements and finalize the rental agreement. You will be required to pay a deposit, which will be returned to you when the dress is returned in good condition.

To custom make an ao dai or wedding dress, you will need to schedule a consultation with our designer. During the consultation, you will discuss your preferences and design ideas, and the designer will take your measurements. Once the design is finalized, we will begin work on your dress. A deposit will be required before work begins, and the remaining balance will be due upon completion of the dress.
Do you offer rental for ao dai and wedding dresses?

es, we offer rental for all in-store items, including ao dai and wedding dresses. Our rental options allow you to wear the dress of your dreams without the commitment of a full purchase. Our rental prices are affordable, and we offer a variety of sizes and styles to suit your needs.
How do I take my measurements?

Taking accurate measurements is essential for custom clothing. We recommend that you have a professional tailor take your measurements, but if you prefer to do it yourself, you can follow our measurement guide. Please note that measurements should be taken while wearing form-fitting clothing, and you should use a soft measuring tape.
Can I custom make an ao dai or wedding dress instead of renting one?

Yes, we offer custom-made ao dai and wedding dresses. If you choose to have a dress custom made, it will take approximately 1-2 months to complete, depending on the complexity of the design. Custom-made dresses require a longer lead time, but they allow you to have a dress that is tailored specifically to your body and preferences.
Can I provide my own measurements for custom clothing?

Yes, if you prefer to take your own measurements, you can provide them to us when you place your order. Please make sure to double-check your measurements to ensure accuracy.
What if my measurements change after I've placed my order?

If your measurements change after you've placed your order, please let us know as soon as possible. Depending on the stage of production, we may be able to make adjustments to your order. However, please note that additional fees may apply.
What styles are available for custom clothing?

We offer a wide variety of styles for custom clothing, including Wedding Gowns, Ao Dai except Modern Ao Dai. You can browse our collection pages for inspiration or contact our customer service team for recommendations.
Do I need to make an appointment to see you at your store?

Yes, we highly recommend scheduling a fitting appointment with us if you are able to visit our store. This allows us to take your measurements in person and discuss any customizations or alterations that you may need.
What is the payment process after I provide my measurement and style preferences?

After we have received your measurements and style preferences, we will send you an invoice for the down payment. The remaining balance will be due before shipment. This allows us to begin work on your order and ensure that everything is completed to your specifications before sending it to you. If you have any questions or concerns about the payment process, please do not hesitate to contact us.
Can I order custom clothing if I live outside of the United States?

Yes, we offer custom clothing to customers all around the world. If you are unable to visit our store for a fitting, we recommend providing your measurements and discussing your customization preferences with our customer service team.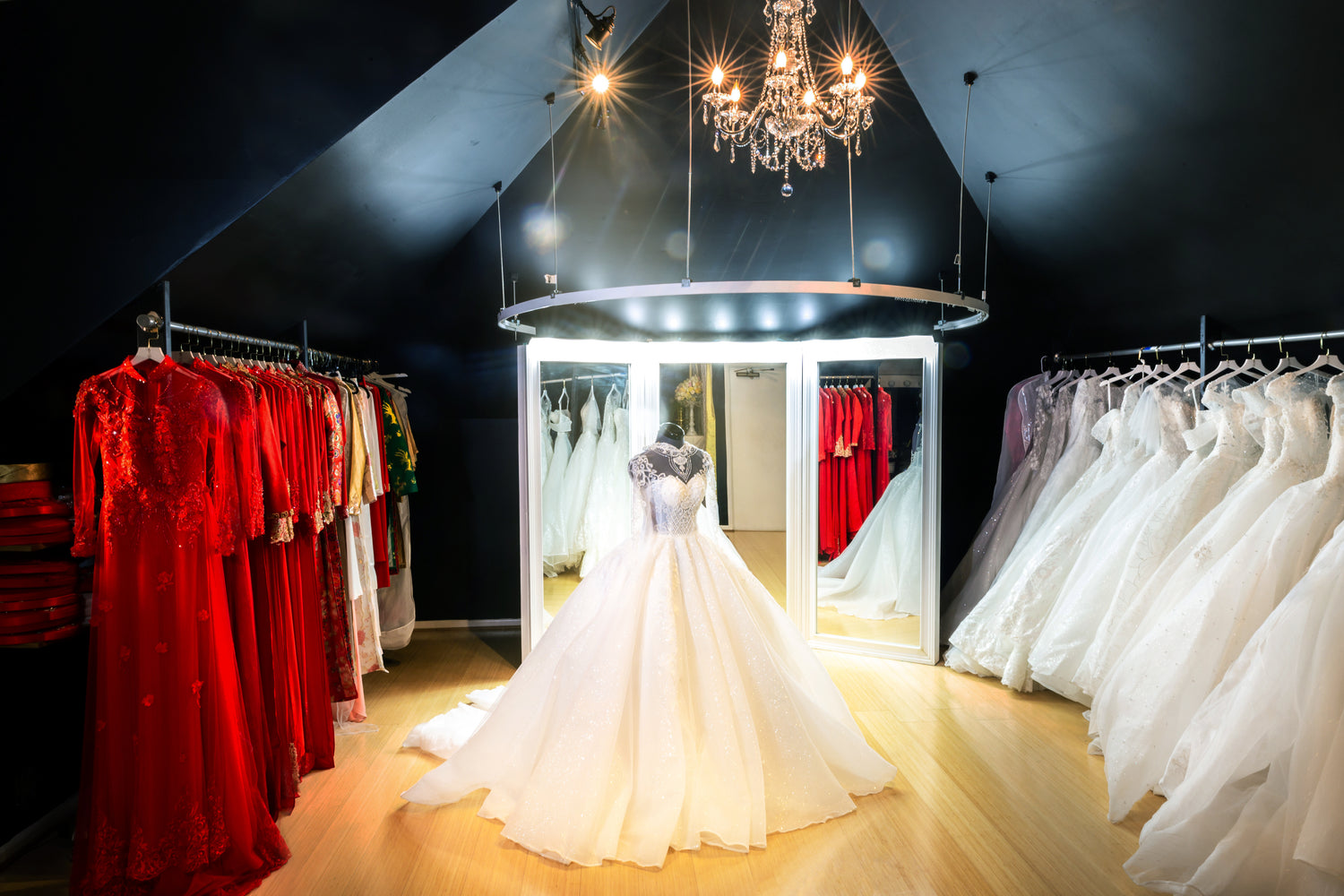 You Are One Step Away From Your Dream Wedding!
Email: sales@em-elite.com
Customer Service Phone # +1 7035595038
Business Address:
(10 mins away from Eden Center)
6399 Little River Tpke, Suite300, Alexandria, VA 22312
Open by Appointment
Mon - Fri, 10am - 6pm
Saturday - Sunday 11am - 5pm
👰🏻🤵🏻 Schedule Your FREE Consultation Now!